About the CCB Toronto Visionaries
Welcome to the CCB Toronto Visionaries chapter of the Canadian Council of the Blind (CCB)!
The CCB Toronto Visionaries grew out of the Visionaries Peer Support Group for the vision-impaired at the CNIB, and was chartered as a chapter of the Canadian Council of the Blind (CCB) in August of 2013. Like all of the more than 65 CCB chapters across the country, the CCB Toronto Visionaries chapter is governed and organized primarily by blind and partially-sighted member-volunteers.
Objectives
Our aim is to provide an opportunity for visually-impaired individuals to come together with their peers, to share information, interests, learning and recreational activities, and to encourage members to explore their potential for living a full, rich life through social engagement. As well, we promote integration and self-advocacy through outreach to the broader, sighted community.
Events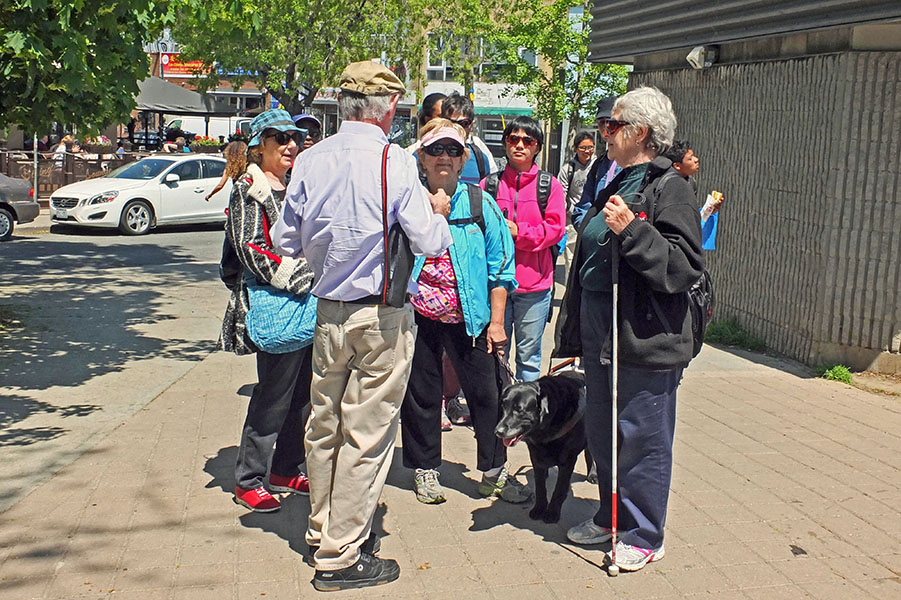 Our monthly meetings are an opportunity to get together with others in the blind community, learn what's new and relevant to those with vision loss, and hear about upcoming events and activities. At many of our meetings, guest speakers are invited to talk on a wide range of fun and interesting topics. Getting together with our peers allows us to share information, learn something new, and build confidence through supportive new social connections, breaking the isolation that so often accompanies vision loss.
In addition, we organize a wide range of low-cost or no-cost activities that take us out into the greater Toronto community, providing more opportunities for us to share our interests — or develop new ones! These may include:
Lunches and dinners out at various Toronto restaurants
Tours at cultural and historic sites
Sculpture classes at the "Hands of Fire" sculpture studio
Day trips out of the city,
and much more!
To find out when we'll be holding our next meeting, or to get the latest information on what activities and outings are coming up look at the Calendar & programs .
For more on how we encourage integration and promote public awareness about living with vision loss, see the Outreach page.
Check out the other clubs, groups, services and supports available to those with vision loss by visiting the Community resources page.
To find out how to join our chapter, click the Become a member link.
Questions? You can reach us via email, by calling our Voice Mail Line, or by liking us on Facebook. Visit our Contact us page for more information.
To donate to our chapter, please click the Support our vision link.