Volunteer with us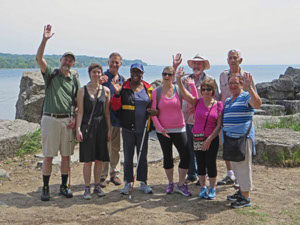 As an entirely volunteer-driven organization, the CCB Toronto Visionaries, like all CCB chapters, relies on the dedication and creative energy of volunteers to develop programs, plan activities, and help out in all the ways that make us successful.
We encourage both sighted and vision-impaired people to come together, to share their talents, and to offer some of their time to help us build social networks, break isolation, and have some fun!
Volunteering is a fantastic way to meet new people, gain valuable new skills, and feel great about making the lives of those living with vision loss a little brighter.
From acting as a sighted guide on one of our many outings, to organizing food for a potluck social, helping us plan an event, or serving on our Executive Committee, there is a role for you to play at any level of commitment. Please contact us for more information on how you can get involved.
Get involved
To sign up as a volunteer, please:
Complete the online Volunteer Application form: Google form.
If you have any questions, you can email our Volunteer Coordinator at volunteering@ccbtorontovisionaries.ca.
We'll be in touch to find a volunteer role for you with the CCB Toronto Visionaries.