White Cane Week activities
In the first full week of February each year, the CCB celebrates White Cane Week, a public awareness campaign which broadens the understanding of vision loss and its impact on all Canadians. Visit the CCB national website for a list of events, information forums, and celebrations across the country.
2019 WCW Experience Expo
As part of White Cane Week, the CCB Toronto Visionaries Chapter of the Canadian Council of the Blind, will host the 2019 WCW Experience Expo, the only exposition and consumer show for people living with vision loss in Canada!
The Experience Expo is an interactive, hands-on exhibition featuring dozens of exhibitors, products and services covering every aspect of the experience of living with vision loss.
Get connected with information on new adaptive technologies, recreation and leisure, tactile art and accessible entertainment, sport & fitness, transportation, education, employment, government supports, advocacy issues and more! Come to the Expo and experience the passion, creativity, wide range of activities, tools and tips for people living with vision loss.
Watch Accessible Media (AMI)'s profile of last year's Expo on AMI Inside.
Date, time and location
Please join us at the Experience Expo.
Date: Saturday, February 2, 2019
Time: 10am to 4pm
Location: Miles Nadal JCC, 750 Spadina Avenue, Toronto
Admission: Free
Contact us for more information or to register as an exhibitor.
Past exhibitors
Here are just some of our exhibitors from the 2018 WCW Experience Expo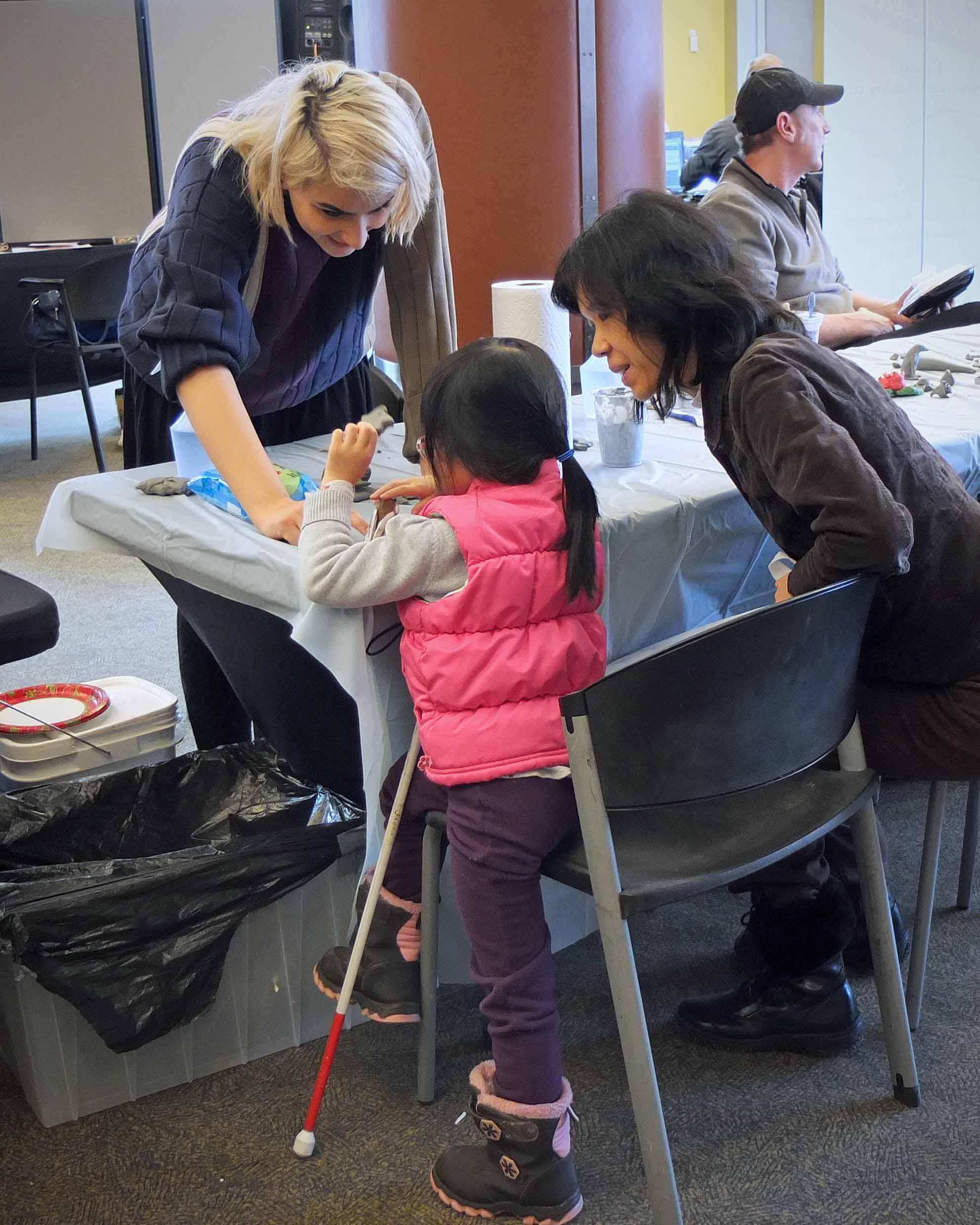 :
Accessible Media Inc.
Alliance for Equality of Blind Canadians
Balance for Blind Adults
Bell Mobility Inc.
Blind Sailing Association of Canada
Braille Literacy Canada
Canadian Council of the Blind, CCB Toronto Visionaries Chapter
Canadian Council on Rehabilitation and Work (CCRW)
CCB Dragon Boat Toronto
Centre for equitable Library Access/Toronto Public Library
CNIB Foundation - GTA
Frontier Computing
Foundation Fighting Blindness
Get Together with Technology/Accessible Gaming
Hands of Fire Sculpture Group
Humanware Technologies
Job Opportunity Information Network (JOIN) Ontario
Dr Ana M. Juricic - Low Vision Optometrist
Med-Fit Rehab Inc.
Micro-Computer Science Centre Inc.
OCADU Vision Technology Services
Ontario Blind Sports Association
Ontario Visually Impaired Golfers
PAL Reading Services
Shoppers Drug Mart
Tactile-Vision Graphics
Toronto Ice Owls Blind Hockey Club
Toronto Ski Hawks Ski Club
Trailblazers Tandem Cycling
Vision Aids Inc.
Vision Loss Rehab Ontario (CNIB)
W. Ross MacDonald School
World Blind Union
We look forward to meeting you!