White Cane Week activities
In the first full week of February each year, the CCB celebrates White Cane Week, a public awareness campaign which broadens the understanding of vision loss and its impact on all Canadians. Visit the CCB national website for a list of events, information forums, and celebrations across the country.
In 2021, White Cane Week is celebrated Sunday, February 7, through Saturday, February 13, 2021.
White Cane Week 2021 in Toronto
Due to the ongoing restrictions imposed by the coronavirus pandemic, we'll be celebrating White Cane Week virtually this year. Join us for the 2021 Visionaries Forum, and watch for other public awareness events and activities once the restrictions lift.
2021 Visionaries Forum
The most powerful tool for integrating people with disabilities into the social fabric of Canada over the past decade has been affordable access to assistive technologies. At school, at home, or on the job, assistive technologies enable people with seeing disabilities to engage in nearly all aspects of Canadian life. But do people with seeing disabilities really have access to the assistive technologies they need?
On Saturday, February 13, at 2pm, the CCB Toronto Visionaries, with CCB National and our community partners, will host this year's Forum discussion.
This year, our panel of experts will be talking about equitable access to assistive technologies, why this access matters so much, and how it can be accomplished. Specifically, we'll be looking at Ontario's Assistive Devices Program and the role it plays in increasing full integration for all Ontarians living with vision loss.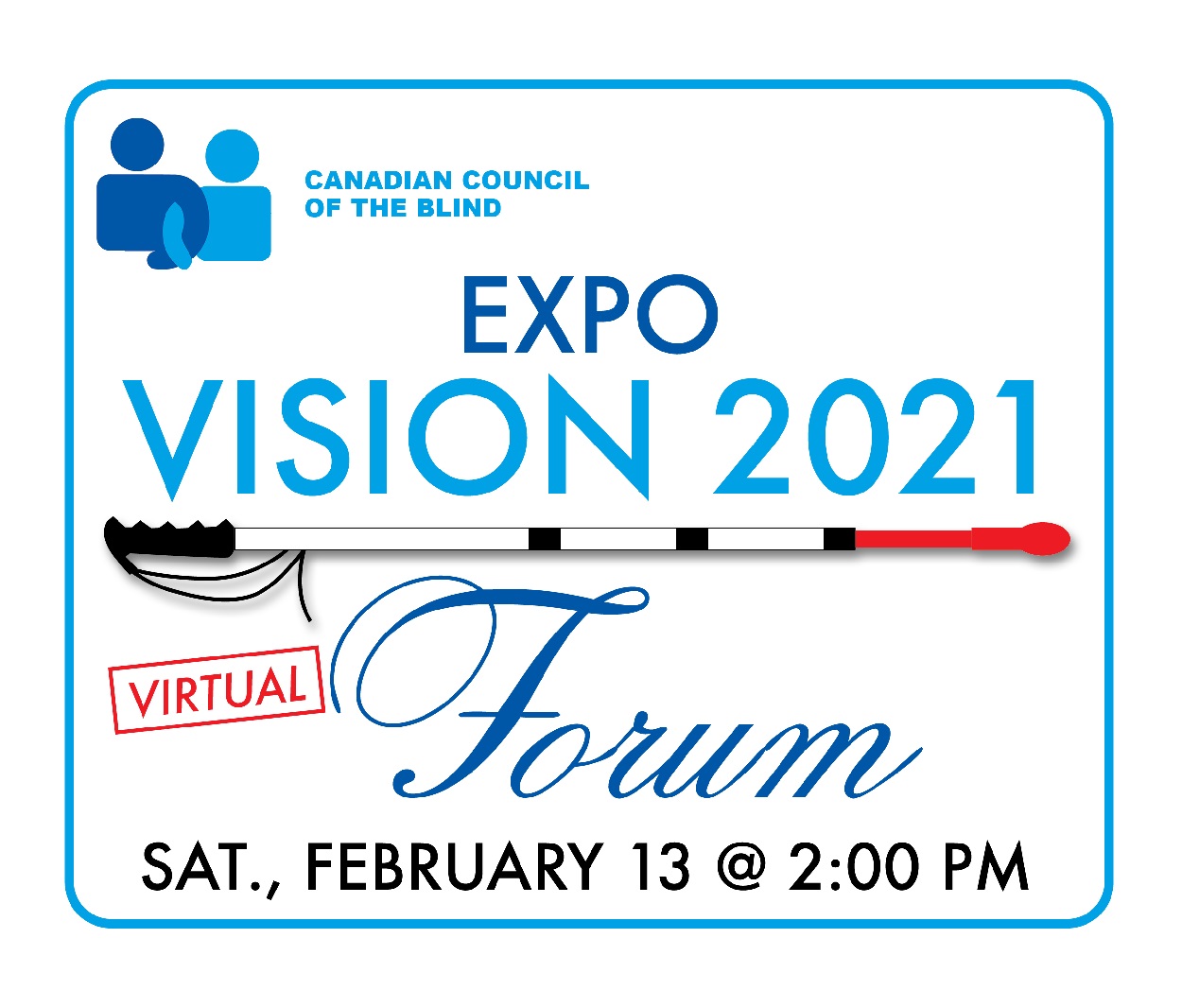 Forum Panelists
Moderator: Dr. Keith Gordon is the Senior Research Officer of the Canadian Council of the Blind (CCB) and the author of the CCB report ""The Impact of the COVID-19 Pandemic on Canadians Who Are Blind, Deaf-Blind, or Partially-Sighted, published in April 2020. He is past Vice President of Research of the Canadian National Institute for the Blind (CNIB), where he directed all research activities. He's also an adjunct professor in the Department of Ophthalmology and Vision Sciences at the University of Toronto, and an Honorary Teaching Fellow in the School of Optometry and Vision Science at the University of Auckland. Dr. Gordon is a board member of a number of national and international organizations associated with vision.
Panellists

Ian White was born with congenital glaucoma. He grew up sighted, completing a Bachelor of Applied Arts degree from Ryerson's School of Interior Design in 1989. In 2001, Ian experienced sudden vision loss. In 2011, he co-founded a vision loss peer support group, guiding its transformation, in 2013, into a chartered Chapter of the CCB, the CCB Toronto Visionaries. As Chapter President he created Experience Expo, Canada's only exposition and consumer show for those living with vision loss, and has encouraged the creation of several new CCB Chapters. Ian is the recipient of the CCB's 2019 Outstanding Achievement Award, and has been recognized by the CNIB and the Government of Ontario for his work as a volunteer community leader. In 2020, Ian completed an undergraduate degree with high distinction in Philosophy at the University of Toronto.
Mike Potvin has worked with the CCB both in a full- and part-time capacity since 2004. He is the Editor of the Visions newsletter as well as of White Cane Magazine. Mike works at Health Canada as a Senior Human Resources Assistant, and has a degree in Sociology from Carleton University.
Samantha MooreSamantha Moore is the Coordinator of Public Relations and Youth Programs at the CCB. She's passionate about accessibility to technology and public spaces for everyone. Samantha believes that, with the proper resources and technology, blind, low-vision, and deaf-blind youth can be extremely successful leaders.
Minette Samaroo is President of the Alliance for Equality of Blind Canadians (AEBC), Toronto Chapter. As the President of the AEBC Toronto Chapter, Minette is actively advocating for social change for people with disabilities. One of the areas she focuses on is equitable employment. In 2019, Minette led the development and execution of the Disability Advantage Program. Minette is also the National Vice President of AEBC, and the Project Lead for the current COVID-19 Relief Project for people with disabilities.
Date, time and location of 2021 Visionaries Forum
2022 WCW Experience Expo
In 2022, the CCB Toronto Visionaries chapter of the Canadian Council of the Blind will once again host our White Cane Week Experience Expo, the only major exposition and consumer show for people with vision loss in Canada.
The Expo features dozens of exhibitors addressing every aspect of living with vision loss, as well as contests, giveaways, and plenty of community-building.
The Experience Expo is an interactive, hands-on exhibition featuring dozens of exhibitors, products and services covering every aspect of the experience of living with vision loss.
Get connected with information on new adaptive technologies, recreation and leisure, tactile art and accessible entertainment, sport & fitness, transportation, education, employment, government supports, advocacy issues and more. Come to the Expo and experience the passion, creativity, wide range of activities, tools and tips for people living with vision loss.
Watch Accessible Media (AMI)'s profile of the 2018 Expo on AMI Inside.
Contact us for more information.
Exhibitors from last year's 2020 WCW Experience Expo
The following exhibitors participated in our last Expo:
Accessible Media Inc.
Alliance for Equality of Blind Canadians
Amazing BPS Racing Cane Challenge
BALANCE for Blind Adults
Bausch + Lomb
BELL Mobility Inc.
Blind Sailing Association of Canada
Braille Literacy Canada
CCB Adventures Chapter
CCB Dragon Boat Toronto/CCB Rocks Chapter
CCB Mississauga VIP Chapter
CCB Mysteries Chapter/CCB Blind Tennis
CCB Road Runners chapter
CCB Toronto Visionaries chapter
CCB Toronto Visionaries & Lions bingo
CELA (Centre for equitable Library Access) and the Toronto Public Library
CNIB Foundation
Discover Your Dance Flow (Michael Haltrecht)/Vivian Chong's Graphic memoir & show
Fighting Blindness Canada
Get Together with Technology program
Hands of Fire Blind Sculpture Group
HT Consulting
Humanware Technologies
Inclusive Design Research Centre, Vision Technology Service
JobStart
Dr. Ana M. Juricic, Low-vision optometrist
Magnet, Ryerson University
Med-Fit
Metrolinx
Miles Nadal Jewish Community Centre & ReelAbilities Film Festival Toronto
Ontario Blind Sports Association
Ontario Chamber of Commerce, Discover Ability Program
Ontario Ministry for Seniors and Accessibility
Ontario Visually-Impaired Golfers (OVIG)
PAL Reading Services Inc.
Say Hello 2 Blindness
Shop CNIB/Frontier Accessibility
Special Needs Computers Inc.
Spinal Cord Injury Ontario
Toronto Blind Curling Club
Toronto Ice Owls Blind Hockey Club
Trailblazers Tandem Cycling
VIA Rail
Vision Aids Inc.
Vision Loss Rehab Ontario (a CNIB organization)