Live 2 Learn conference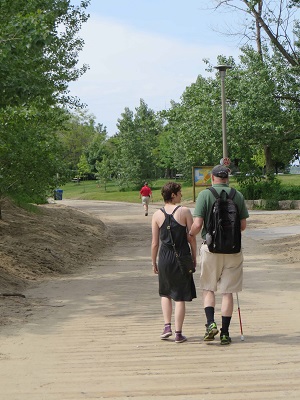 The Live 2 Learn conference is a new forum focused on inclusive design research for those living with vision loss. Its goal is to highlight cutting edge research on practical solutions to real problems faced by those living with blindness and low vision.
The conference looks at ground-breaking research that blends theory with practical application, inclusion with the latest technologies, developments in computer science, material engineering, and academic theory into investigations at the boundary of what we know. But always with a view to creating greater inclusion for those living with visual impairments. We want to find out what researchers are working on, what barriers they are breaking down, and where their dreams might take us in the years ahead.
Conference format
The Conference will be held virtually via Zoom. For more information and to register, see the registration information section, below.
Each of the several presentations will be followed by a short Q&A. There will be a breakout room available for more in-depth questions and networking opportunities.
Conference highlights
There will be a keynote speaker, and several guest presenters.
Keynote speaker
Dr. Peter Coppin, Associate Professor in the Faculty of Design and Inclusive Design, and Director of the Perceptual Artifacts Lab (PAL), OCAD University, Toronto.
Guest presenters
Dr. Jeremy R. Cooperstock, Director, Shared Reality Lab, Department of Electrical and Computer Engineering, McGill University, Montreal, and Jeff R. Blum, PhD candidate, with David Brun, Director & Founder, Gateway Navigation. McGill's Shared Reality Lab partnered with Gateway Navigation and with the Canadian Council of the Blind to create IMAGE (Internet Multimodal Access to Graphical Exploration). IMAGE uses rich audio (sonification), together with the sense of touch (haptics), to provide people who are blind or partially-sighted with a faster and more nuanced experience of graphics on the web.
Mandy Hui and Liana Meere, Industrial Design program, Carleton University, Ottawa. Mandy and Liana are the 2021 first-place winners of the Universities Canada Innovative Designs for Accessibility (IDeA) competition. Their innovative app, Closet, is a two-part labelling system that matches clothes, determines the colour of textiles, reads QR codes on wash labels, and includes Braille on garment labels.
Robert Ingino, Co-founder, SenseTech Solutions Inc., Toronto. SenseTech Solutions develops virtual reality (VR) simulations for visually-impaired users, helping those in need get ready to face real-world challenges.
Tim Devine, Executive Creative Director, AKQA inclusive-design trends. Tennis Australia partnered with Monash University in Melbourne, Australia, and the digital design and communications agency AKQA to develop Action Audio, turning spatial data from the Australian Open's real-time ball-monitoring technology into 3D sound. The system emphasizes ball speed and trajectory, proximity to line and shot type, and augments critical moments to allow blind and low-vision audiences to follow the game without seeing the ball.
Dr. Bryan F. Shaw, Professor, Chemistry and Biochemistry, Baylor University, Waco, Texas, Head of the Shaw Research Group. Dr. Shaw led a team of researchers to develop 3D-printed candy protein models for use in STEM education. He is also credited with leading the research that developed 'Cradle', a phone app that detects eye disease in photographs.
Mitali Kamat (OCAD University) and Lillian Fan (Ontario Tech University), Toronto, 2021 winners of the Innovative Designs for Accessibility (IDeA) national competition. These two researchers developed a prototype 3D drawing toolkit for blind and partially-sighted artists. Complete with a digital interface that translates 3D haptic drawings into an online virtual environment, suitable for 3D printing and collaboration, their toolkit facilitates artistic creativity and expression in the arts.
Date, time and location
Date: Saturday, June 25, 2022
Location: Live on Zoom.
Time: 9:00am to 4:00pm
Cost: Admission for attendees and presenters is free. Registration is required.
Registration
Register to receive the Zoom links to attend the conference. For questions or additional information, please contact Christopher Schiafone, vice-president@ccbtorontovisionaries.ca or call 416-760-2163.