Concert: Catch the Westbound
The CCB Toronto Visionaries Chapter of the Canadian Council of the Blind proudly presents the Lucas Haneman Express' "Catch the Westbound".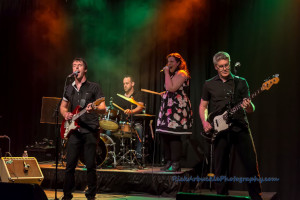 Hot on the heels of their 2018 Maple Blues Nomination for Best New Act, the Lucas Haneman Express is back with their April 2019 release "Catch the Westbound", which will be their 3rd full-length studio album. In addition to being mixed by Toronto-based Brian Moncarz (who has produced work for Juno and Grammy award-winning artists such as "Our Lady Peace", "The Trues" and many more), the album was also mastered by Ottawa based Philip Shaw Bova (who has just been nominated for a Grammy Award). "Catch the Westbound" features 10 robust original tracks by Haneman and the band that sound like they were made for radio. This is Blues brought to the year 2019 (featuring both Haneman and Megan Laurence on lead vocals), Blues that defies genre and welcomes any lover of music along for the ride!
For a taste of the Lucas Haneman Express' newly minted third album, listen to Ms. McGrim, or Devil's in my Grave.
Date: Friday, April 12, 2019
Location: CNIB Centre, 1929 Bayview Avenue, Toronto
Time: Doors open at 5:30pm, show starts at 7:00pm
Cost (in advance): CCB members $15, non-members $25
Cost (at the door): CCB members $20, non-members $30
Soft drinks, water, and light refreshments will be served.
Tickets available by arrangement. To get your tickets, email the CCB Toronto Visionaries, or contact Rhonda Underhill-Gray at the CNIB Hub (416-486-2500 extension 8313) or David Dennis at the CNIB Store (1929 Bayview Ave). You can also get tickets at any CCB Toronto Visionaries event from now until the show date.