2023 Bus trip & boat cruise: 30,000 Islands on the Island Queen
This year, we're heading north to Parry Sound, to cruise the historic and scenic islands of Georgian Bay! The trip includes round trip bus travel, lunch, and a beautiful and relaxing cruise through the islands of Georgian Bay complete with a running descriptive commentary on the history, geography, and scenic beauty of the area.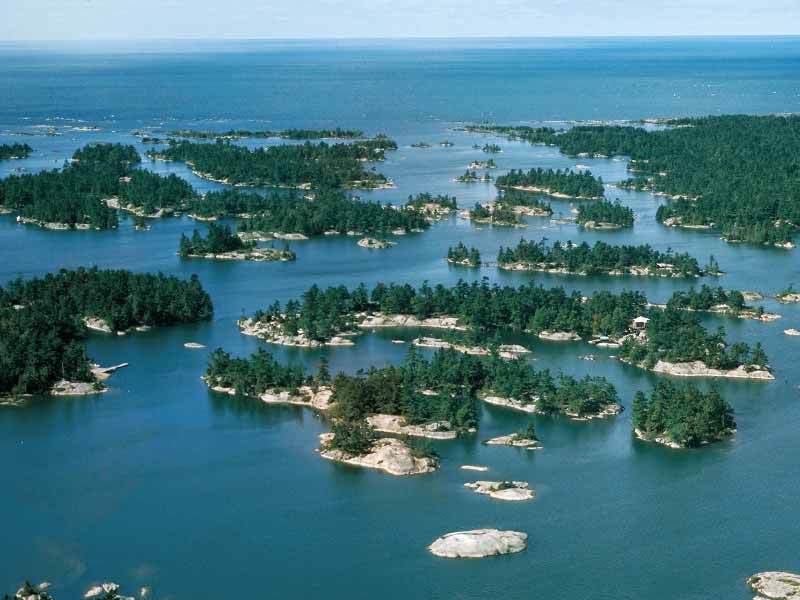 Date: Friday, August 25, 2023
Location: The bus leaves from two pick-up points and returns to Toronto late in the day. See full itinerary below.
Cost (roundtrip): Registered CCB members, $50; non-members, $60.
Approximate itinerary, pick-up and drop-off points
All times will be confirmed closer to the date.
For those booking WheelTrans rides, please understand that this itinerary is approximate and may be affected by rush hour traffic. Please allow generous margins of error to ensure that you arrive before departure times, and that your pick-up is scheduled for well after the indicated drop-off times.
First pick up: Cloverdale mall. 250 The East Mall Toronto, ON M9B 3Y8.

8:15 AM, bus loads
8:30AM SHARP, bus departs from Cloverdale mall

Second pick up: Bridlewood mall, 2900 Warden Avenue (at Finch), Scarborough, ON, M1W 2S8.

9:20 AM, Bus arrives and loads
9:30AM SHARP, Bus departs from Bridlewood mall

12:15 PM, arrive Island Queen docks, 9 Bay Street, Parry Sound, ON, P2A 1S4
Collect box lunch, board the Island Queen.
1 PM to 4 PM, eat lunch onboard, tour the islands of Georgian Bay, then return to docks.
4:15 PM, bus loads
4:30 PM, Bus departs for Toronto
First drop off: Approximately 5:30PM, arrive at Cloverdale mall.

Approximately 7:00 PM, arrive at Bridlewood mall
7:15PM, Bus departs for Cloverdale mall

Second drop off

Approximately 8:00 PM, arrive at Cloverdale mall for final drop-off.
Volunteer sighted guides
We will arrange for three sighted guides to accompany us on our trip. These guides are to provide general help for those who need it. We cannot provide one-on-one guiding support. You are encouraged to invite friends and family to join us.
Reservations
In order to make sure you have a seat on the bus, your ticket must be pre-paid.
Reservations will be on a "first come, first served" basis, and must be accompanied by payment in full.
There are no refunds for cancellation less than 10 days prior to departure.
How to book your seat
All reservations by mail must be received before Friday September 23, 2022.
Credit card: Go to the Support our vision page and use your credit card to 'donate' the purchase price of your ticket(s) using the PayPal button. Make sure to add a note in the 'Instructions to Seller' field that your donation is for a Bus Trip ticket purchase, and include the full names of all those in your party.
E-transfer: Send an e-bank transfer to info@ccbtorontovisionaries.ca. Make sure to add a note identifying the funds as a Bus trip ticket purchase, and include the names of all those in your party.
Cheque: Mail a cheque, made payable to the CCB Toronto Visionaries, care of:
CCB Toronto Visionaries Chapter
Canadian Council of the Blind
85 Evans Avenue, Toronto, ON, M6S 3V9
COVID protocols
We will be following all public health measures in place at the time of the trip.
There are currently no government requirements regarding masking or proof of vaccination status. Masks are encouraged while on the bus, but not required. Hand-sanitizer will be available each time we board the bus.
Note: We cannot guarantee a COVID-free environment on this trip. Each participant is responsible for making their own assessment of whether they feel comfortable coming on the trip, based on the protocols described.
What's included and what's not
Round-trip bus travel is included. The bus is a conventional highway passenger coach, with several steps up into the cabin, and a small convenience washroom on board. Folding walkers can be accommodated in the luggage compartments beneath the cabin. The bus is air-conditioned.
A pre-packaged box lunch will be provided for each ticket purchase. Details of what is included in the lunch will be released once details have been confirmed. Dietary restrictions can be accommodated. Please confirm any dietary restrictions upon booking. There is a snack bar onboard the boat, and both hot and cold beverages are available for purchase.
30,000 Island Cruise lines has said that all service animals must be in harness at all times while onboard, preferably with a vest identifying them as a working dog. All other animals must be crated while onboard. We respectfully ask that family pets remain at home.
We have been told that the main deck of the boat is accessible for those with mobility challenges. Upper decks are only accessible via stairways.
This trip goes rain or shine, so please dress appropriately for the weather.
Emergency contacts
All participants will be required to provide emergency contact information to the CCB organizers prior to departure.
More information
For more information, call the voicemail line or drop us an email. Seating on the bus is limited, so book your place today!
Seating on the bus is limited, so book your place today.