Bus Trip to Midland: Sainte-Marie-Among-the-Hurons and the Wye Marsh Wildlife Centre, Thursday, September 27, 2018
We'll begin our trip with a guided tour at Sainte-Marie-Among-the-Hurons, a Jesuit settlement built in the 17th Century, where the first Europeans tried to introduce Christianity to the Huron Wendat people. The site is a living museum, rich in the history of first contact, trade, and the clash of cultures!
Then, we'll delve into the complex ecology of the Wye Marsh, its indigenous wildlife and botany, and the complex web of biological interdependence that makes up the wetlands of Ontario. We'll get an introduction, up close and personal, to some of the wildlife that inhabits the Marsh in a show called "Birds of Prey".
Finally, we'll take a gentle 2-kilometer guided walk along packed trails, a boardwalk overlooking the water, and through indigenous forests, discovering the sights, sounds and smells of the natural environment in Ontario.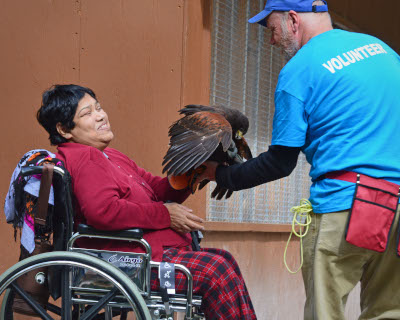 About the trip
Join us for this year's trip!
Date: Thursday, September 27, 2018
Location: Bus leaves from the CNIB Centre, 1929 Bayview Avenue, Toronto
Time: 8:30am SHARP!
Cost: Registered CCB members, $25; non-members, $35.
We return to Toronto between 6pm and 7pm, depending on the traffic.
Ticket price includes round trip bus travel from Toronto to Sainte-Marie-Among-the-Hurons (Huronia Historic Park) and the Wye Marsh Wildlife Centre in Midland, a picnic lunch, admissions and guided tours at both venues, and the "Birds of Prey" show.
As always, friends, family and sighted guides are welcome. Both venues have accessible access to all buildings and washrooms. Hiking trails are packed gravel and boardwalks and are rated "Easy".
To join us
To reserve a seat on the bus, we must receive payment in full. Space is limited and seats will be allocated on a first come, first served basis. Please contact us for payment options (see page footer for details). No cancellations or refunds more than 10 days prior to trip date.
So, join us as we explore the history and natural environment in beautiful Midland!